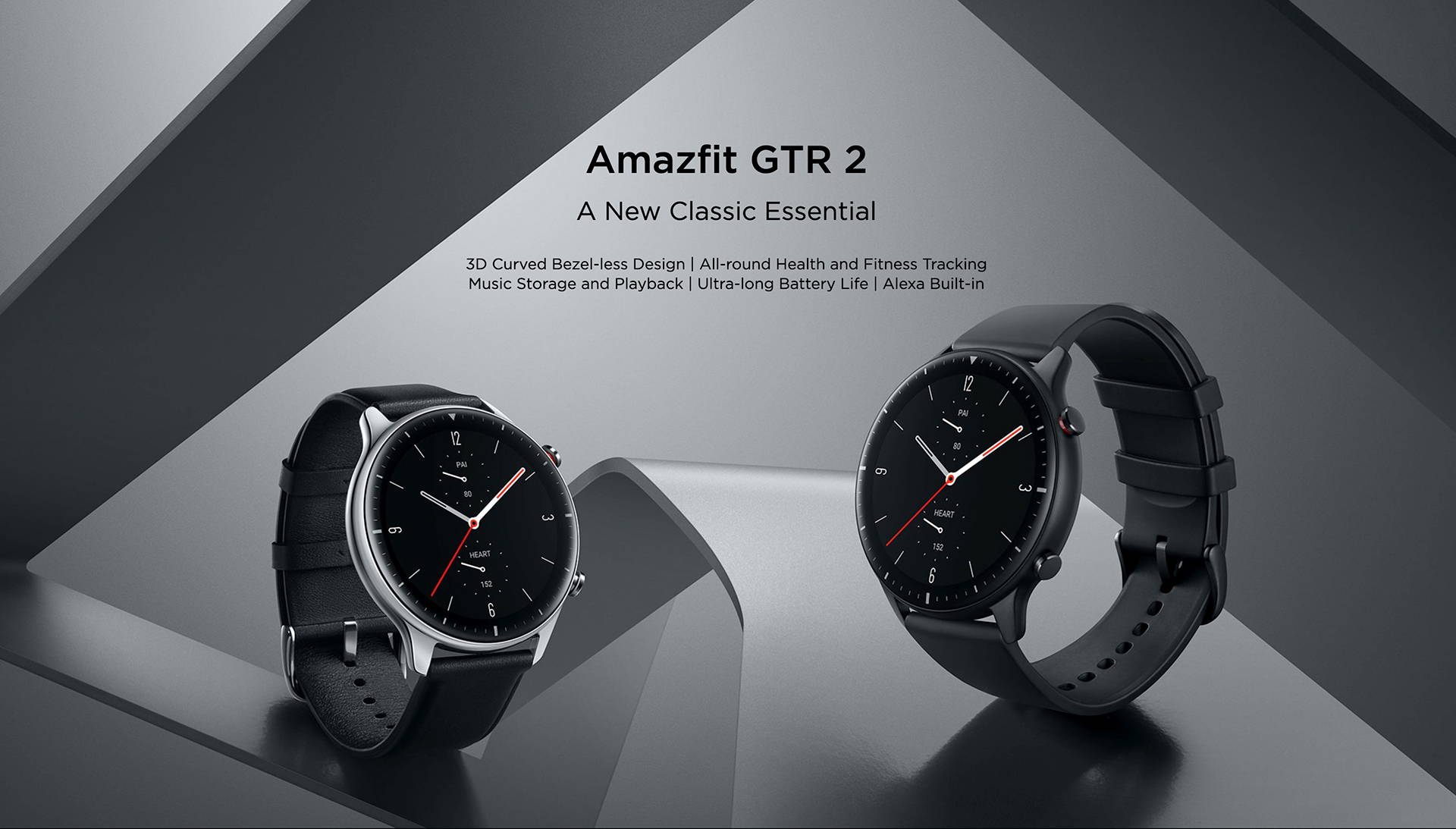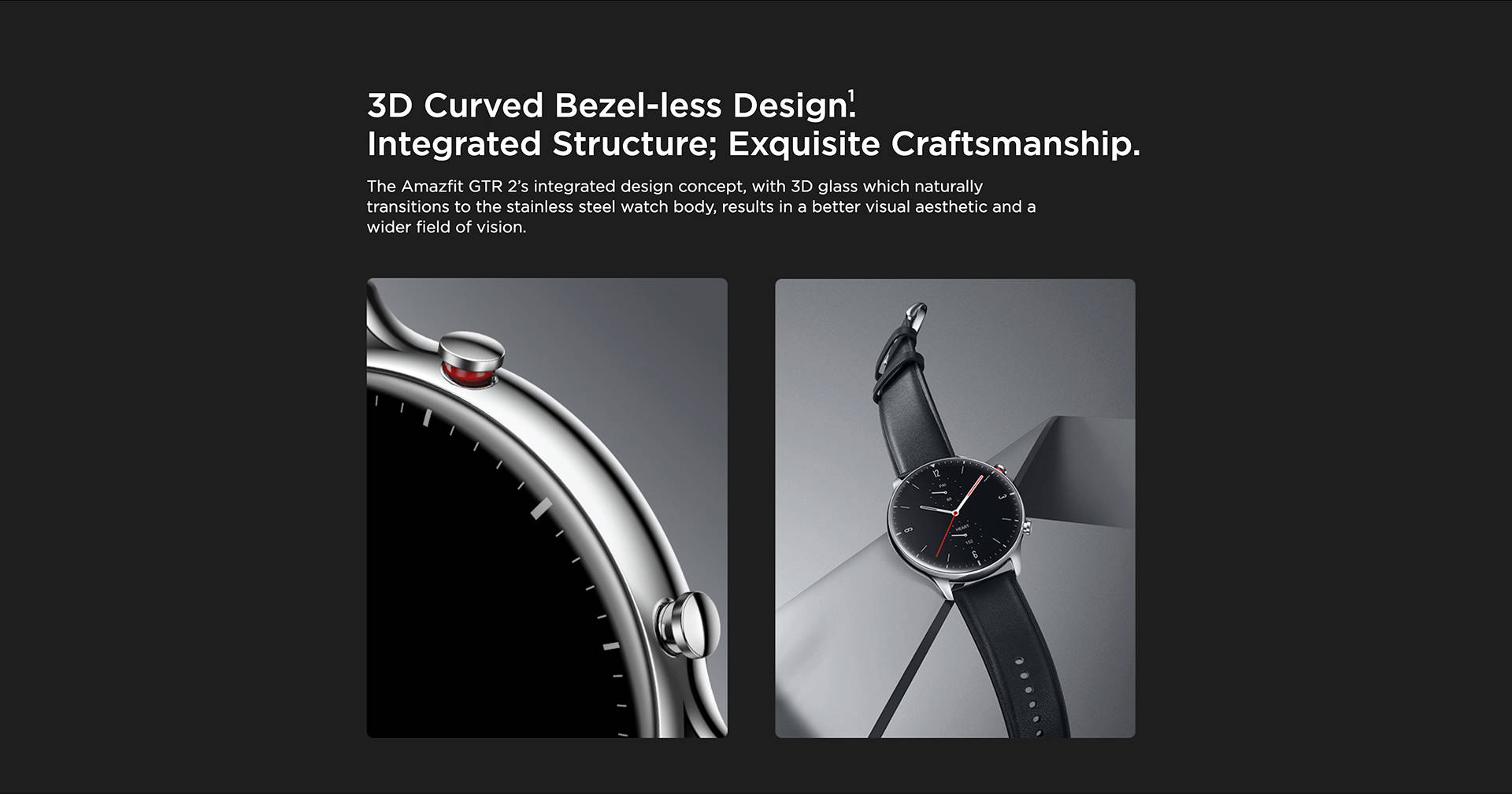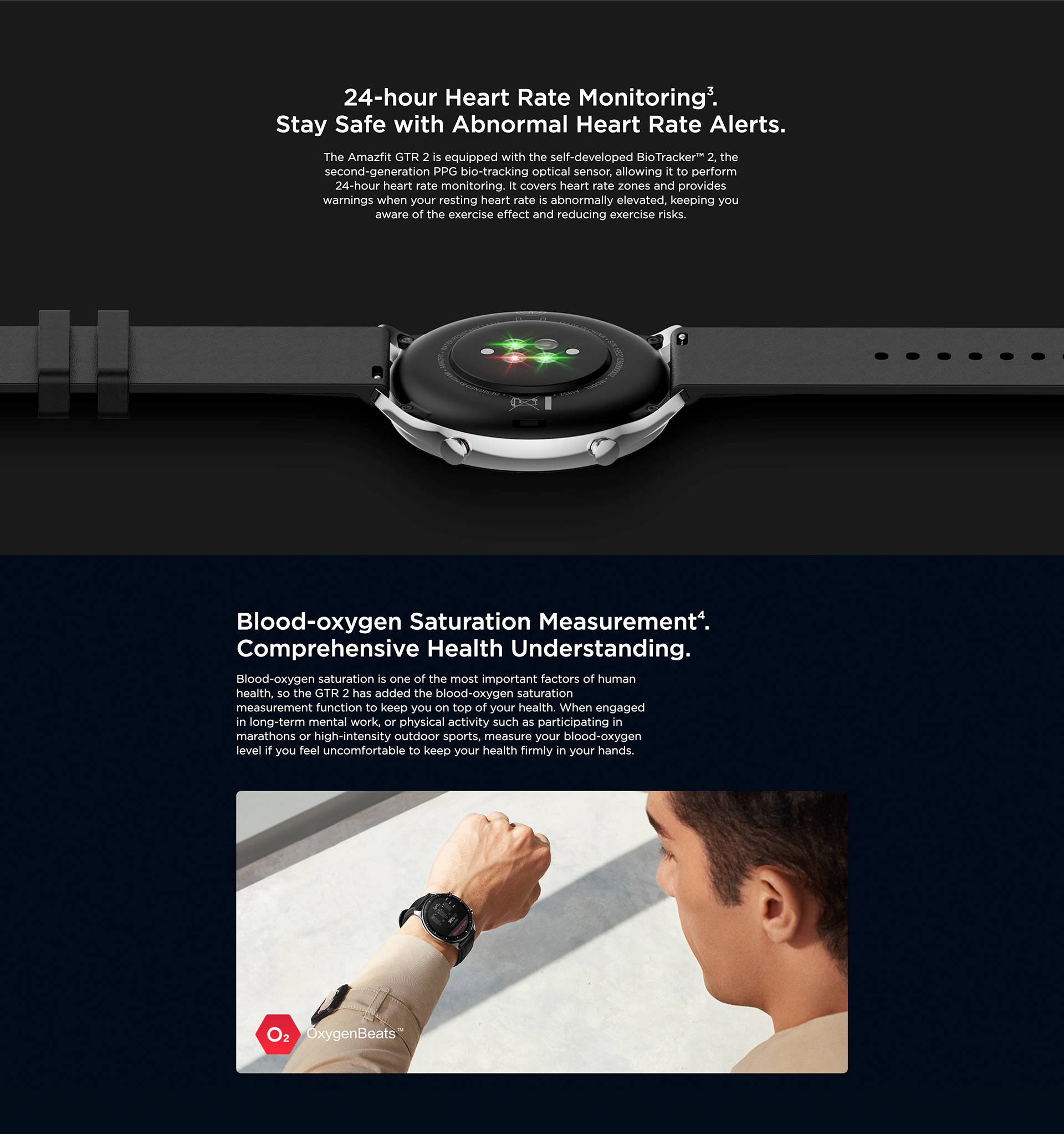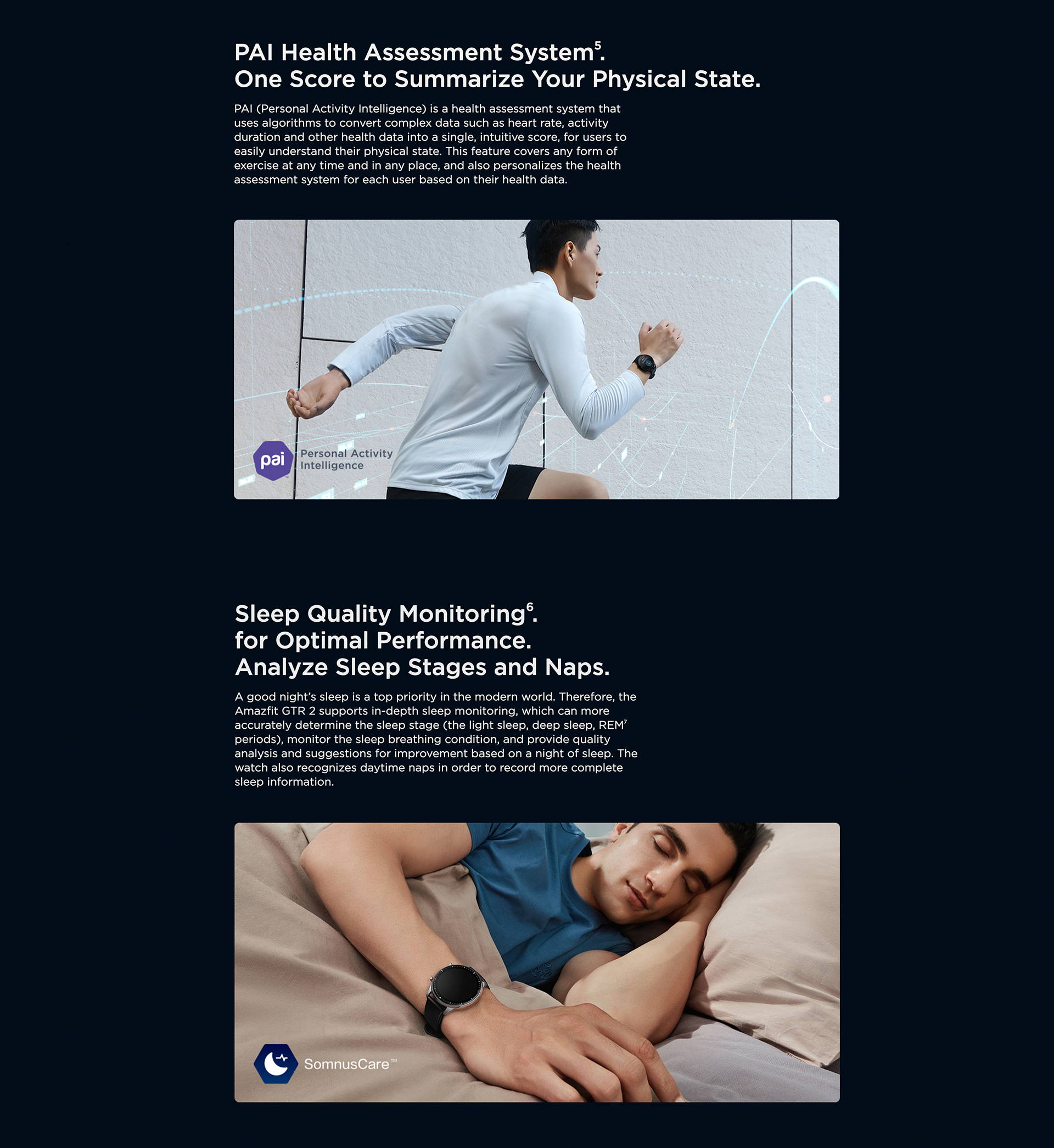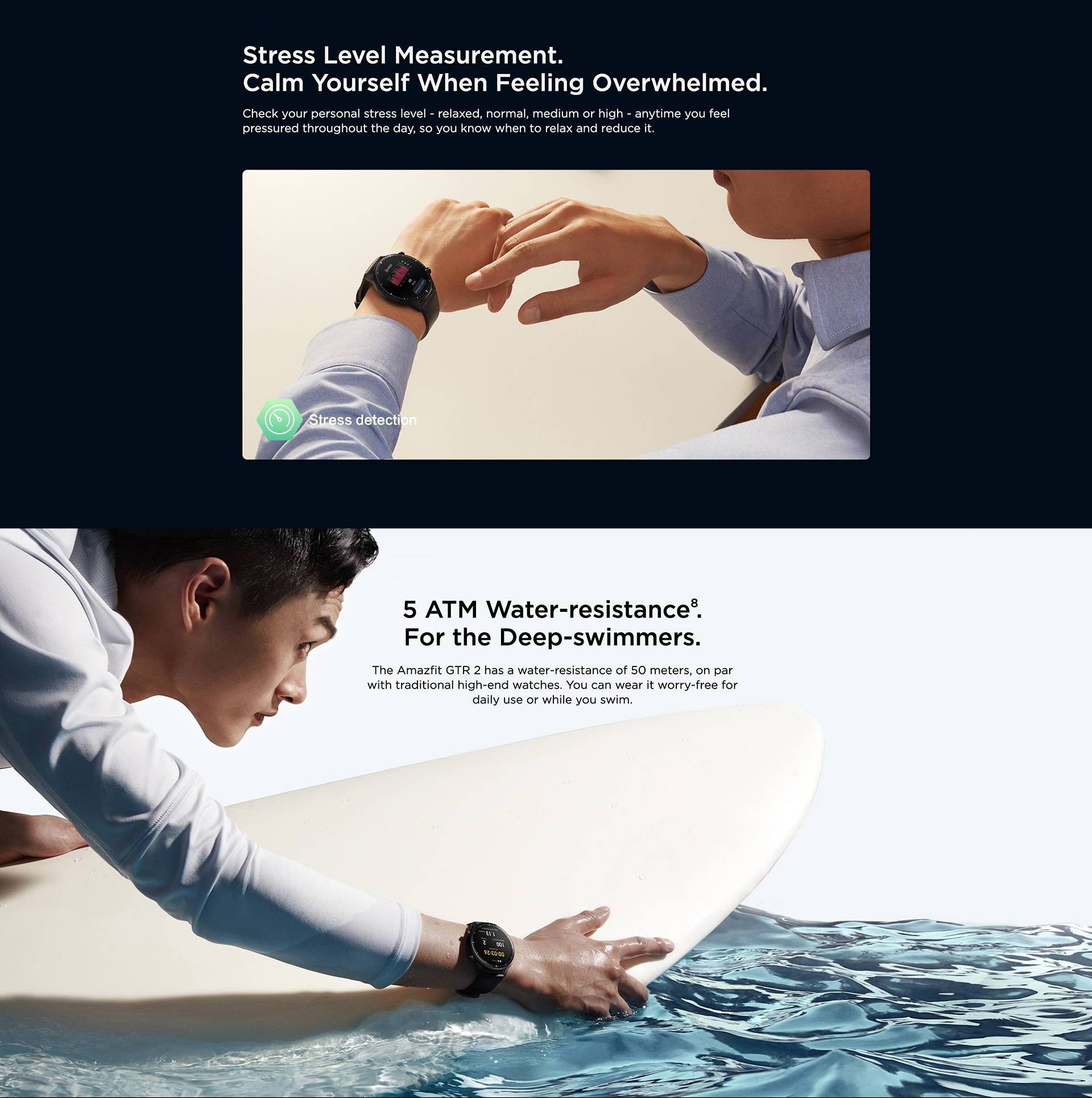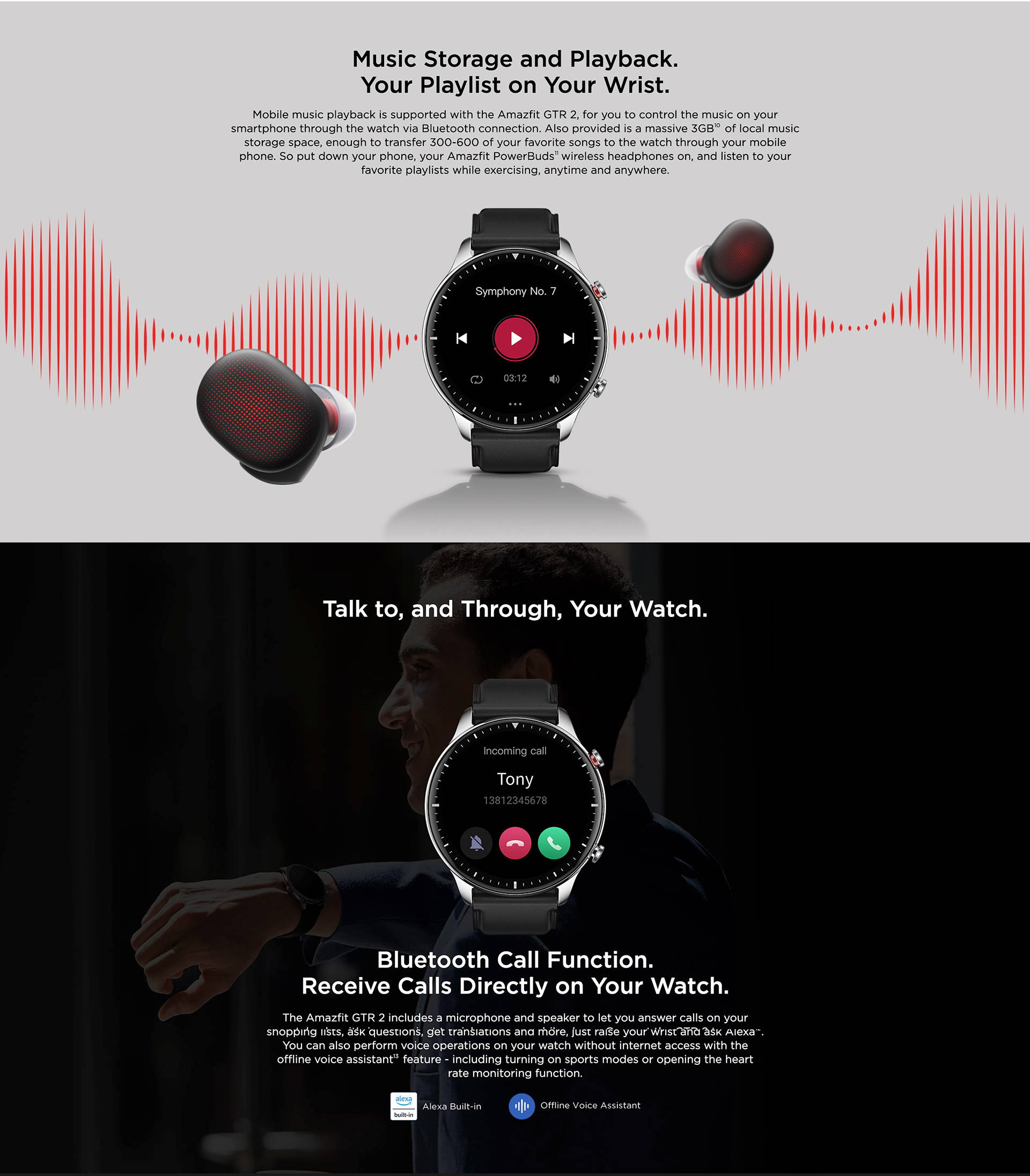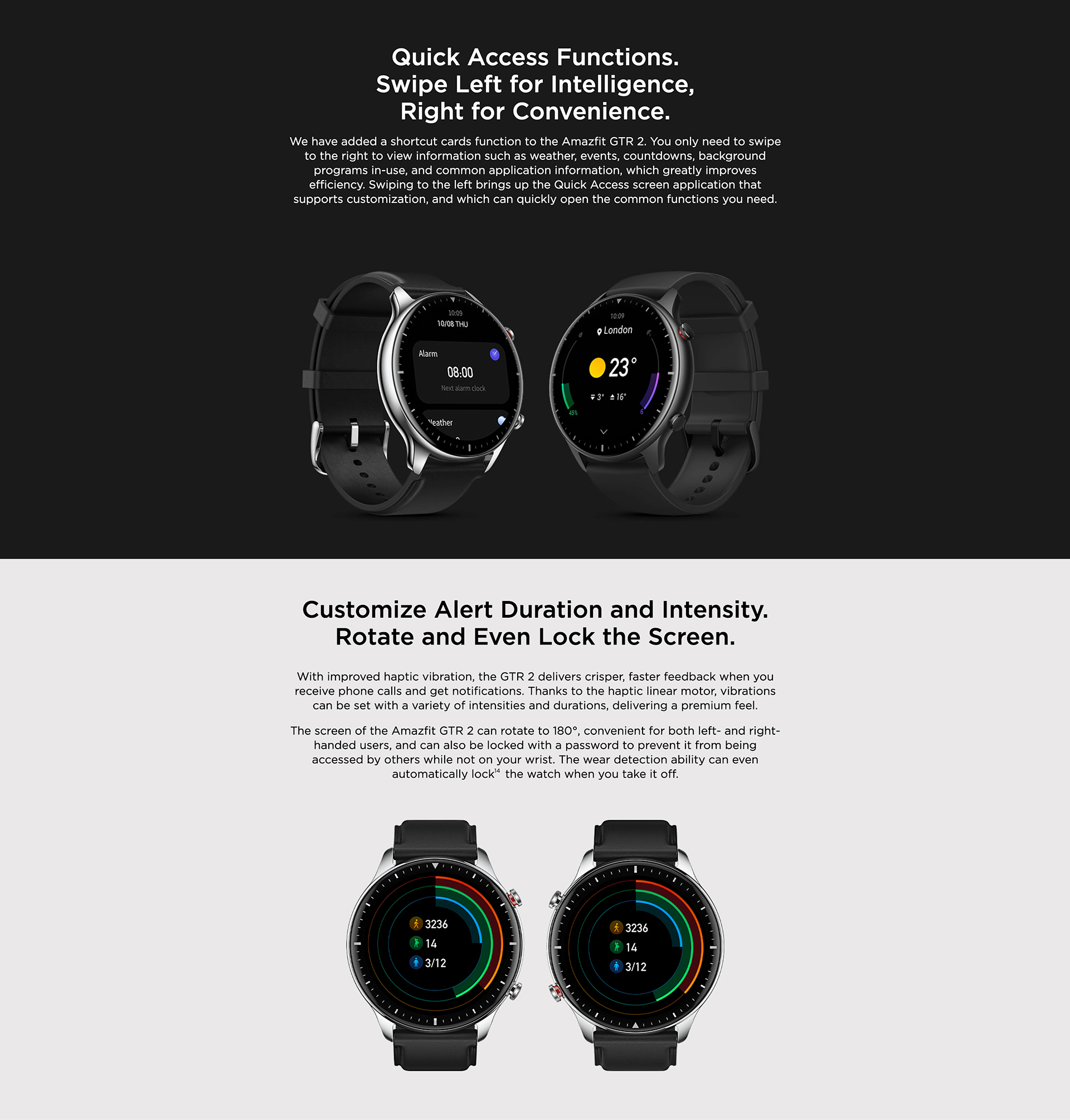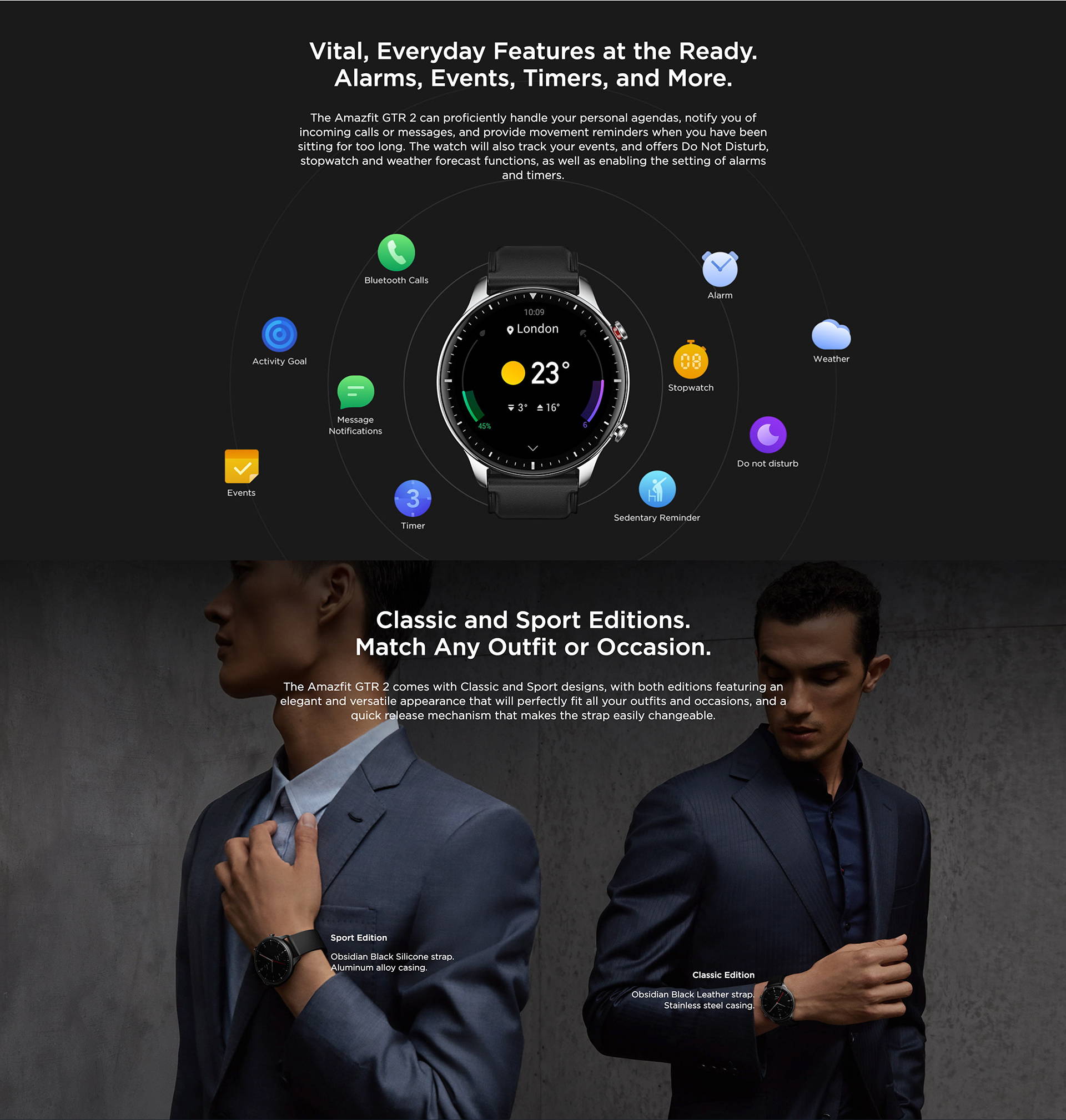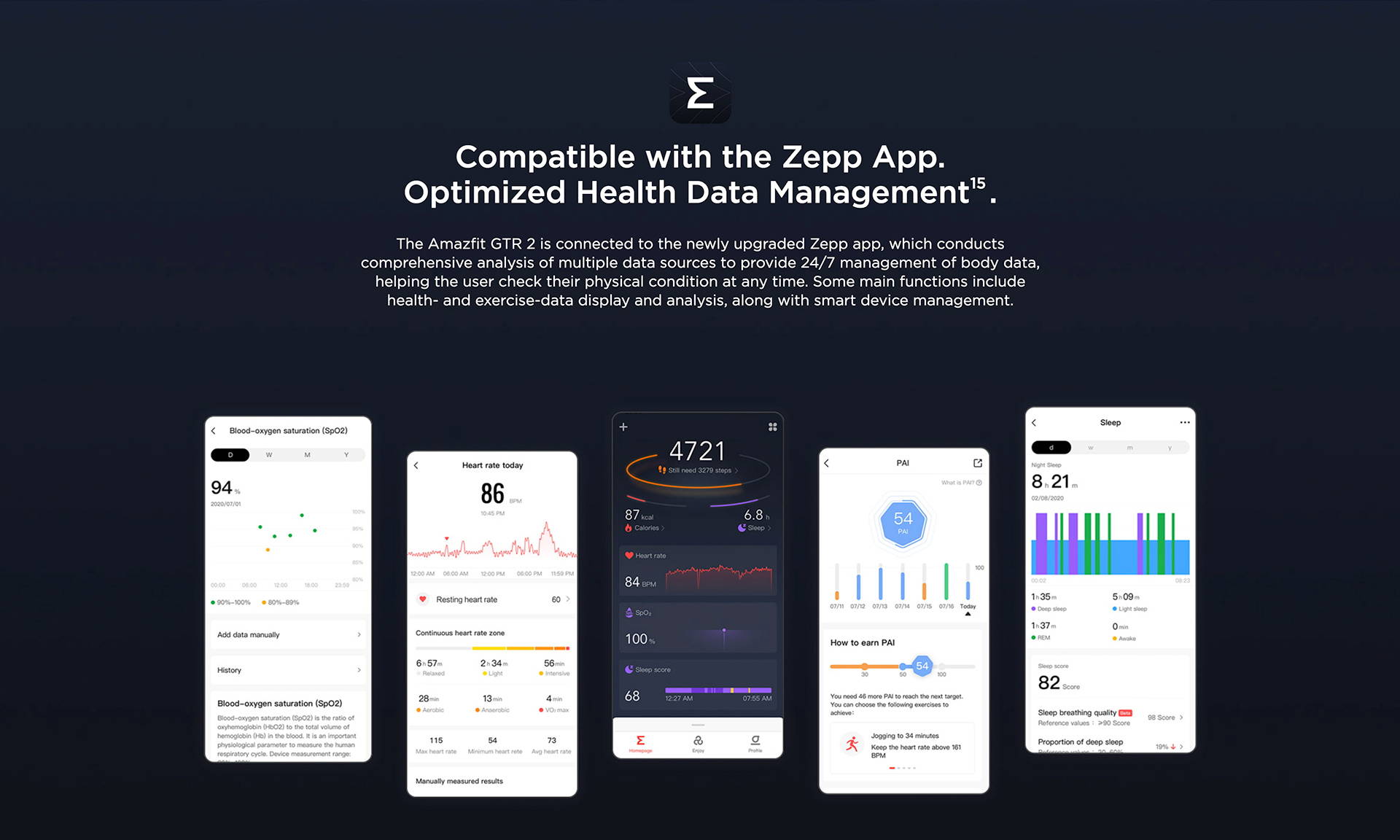 Specifications
Design
Size (round)
46.4x46.4x10.7mm
Weight
Sport model-31.5g (without strap)
Classic model-39g (without strap)
Body
Sport-Aluminum alloy
Classic-Stainless steel
Screen
Touch Screen
Tempered glass
anti-fingerprint coating
ODLC coating
Endurance
Battery Capacity
471 mAh (typical value)
Charging Method
Magnetic Charging Stand
Charging Time
About 2.5 hours
Typical Usage
Battery Life
14 days9
Basic Usage
Battery Life
38 days9
Heavy Usage
Battery Life
6.5 days9
Sensor
Health
Self-developed BioTracker™ 2 PPG
(support blood-oxygen) biological data sensor
Movement
Air pressure sensor, Acceleration sensor,
Gyroscope sensor, 3-axis geomagnetic sensor,
Ambient light sensor
Connection
Bluetooth 5.0
WLAN 2.4GHz16
Strap
Material
Silicon or Leather, Quick release
Packing List
Watch body (including standard strap) / charging base / instruction manual
Supported Devices
Android 5.0 or iOS 10.0 and above
1. The Amazfit GTR 2 adopts a new design concept. The product has no obvious border on the front, bringing a "borderless" visual experience.
2. Always-on Display: When the screen is illuminated, it displays system content. When the screen is in standby mode, it displays the time. This function requires users to manually set "Always-on Display". The user can switch on or off this feature through the watch or app.
3. The 24-hour heart rate detection feature requires the user to set and turn on the "heart health detection" feature; the 24-hour heart rate monitoring is supported in the app, and the minimum value can be set to 1 minute; this feature cannot be used for medical purposes or as a basis for medical diagnosis. The detection results are provided for reference only. Please consult professional medical institutions if you feel unwell.
4. SpO2 level can affect the oxygen level to various organs. If the level is too low, it could lead to dizziness, headaches, or cardiac arrest. This product is not a medical device. The measurement data is intended for reference only and cannot be used to perform professional diagnosis or monitoring of any medical conditions. Additionally, data accuracy can be affected by physical characteristics. To measure SpO2, please keep your arm still.
5. The HUNT Fitness Study indicates that people who maintain a PAI score of 100 or higher show lower risk of hypertension, heart disease, and type-2 diabetes. HUNT Fitness Study: This study was conducted by Professor Ulrik Wisloff of the Faculty of Medicine, Norwegian University of Science and Technology. It lasted for more than 35 years and had more than 230,000 participants.
To use this function, all-day heart rate monitoring must be enabled.
6. Sleep monitoring can record night sleep and naps that last more than 20 minutes. Any sleep period that starts or ends between 10pm-8am will be recorded as night sleep, and if you fall asleep within a 60-minute window at either side of your night sleep period, it will also be recorded as night sleep. Sleep recordings that start or end over 60 minutes outside your night sleep period, and that do not overlap the 10pm-8am timeslot at any point, will be recorded as a nap.
7. The REM, also known as rapid eye movement, period is the basis for the normal biological rhythm and life-sustaining of mammals. It accounts for about 20%-25% of the entire night's sleep cycle. It is characterized by rapid eye movement, low-amplitude mixed-frequency EEG activity, and muscle tension relaxation. The rapid eye movement phase is the sleep phase related to dreams in the sleep cycle.
8. According to the GB/T 30106-2013 / IOS 22810:2010 standard, the Amazfit GTR 2 achieves a rating of 5 ATM, for a water-resistance of up to 50 meters, and is therefore suitable for splashes, snow, showering, or swimming. It has passed testing conducted by the National Watch Quality Supervision and Inspection Center, and the report number is SHES200701427701. Remove the watch when taking a hot shower or trip to the sauna, since too much steam can affect the seal and make it less water-resistant in future. Do not wear the watch with a leather or metal strap when swimming - when preparing to swim, change to a fluoroelastomer strap or other suitable type. For more information, please visit the support page at: support.amazfit.com
9. The battery life may vary according to the settings, operation conditions and other factors. So the actual result may differ from the laboratory data.
Typical usage scenario: Heart rate is always on, sleep monitoring enabled; 150 pushed messages a day lighting up the screen display, raise wrist to see watch time 30 times, bright screen operations for 5 minutes; exercise 3 times a week, GPS running for 30 minutes.
Basic usage scenario: Turn off the Bluetooth connection, heart rate and other functions of the phone, and only lift the wrist to turn on the screen 100 times a day.
Heavy usage scenario: Heart rate is always on, sleep monitoring and sleep breathing quality monitoring and stress monitoring enabled; 150 pushed messages a day lighting up the screen display, lift the wrist 100 times, bright screen operations 15 minutes; exercise 3 times a week, GPS running for 30 minutes.
GPS continuous working time 48 hours: Turn on heart rate monitoring and GPS, use the GPS to map your workouts.
Continuous Bluetooth call for 10 hours: Connect the Amazfit GTR 2 to your phone, and use Bluetooth phone call.
10. The maximum storage space for music is 3GB (due to the system space occupied, the actual space used by the user may be less than 3GB); based on 5-10MB per song, it can store up to 300-600 MP3 songs.
11. Amazfit PowerBuds wireless headphones need to be purchased separately.
12. To see the countries/regions available, languages supported, as well as how to activate and use Alexa on your Amazfit GTR 2, please visit support.amazfit.com.
13. Offline voice assistant only supports English voice commands.
14. The automatic lock feature needs to be set manually in the watch settings.
15. This product is not a medical device.
16. Wi-Fi can only be used for music transfer from your smartphone to the watch.
Statements
The product images and screen content shown above are for reference purpose only. The actual product (including but not limited to its appearance, color and size) and screen display content (including but not limited to the background, UI and graphics) may differ slightly.
The data that is provided on this page without a specified source is taken from internal laboratories or supplier data, and has been obtained under a specific test environment. The product's actual performance may differ slightly due to product individual differences, software versions, usage conditions and environmental factors.
To provide product information, specifications and characteristics as accurately as possible, our company may adjust and revise the text descriptions, images and other content in the above pages at any time. Due to real-time changes in product batches and production-supply factors, we may modify the above information as required without providing a special notice.
The radio waves generated by the equipment may affect the normal operation of implanted medical equipment or personal medical equipment, such as pacemakers and hearing aids. If you use these devices, please consult their manufacturers for restrictions on using this device.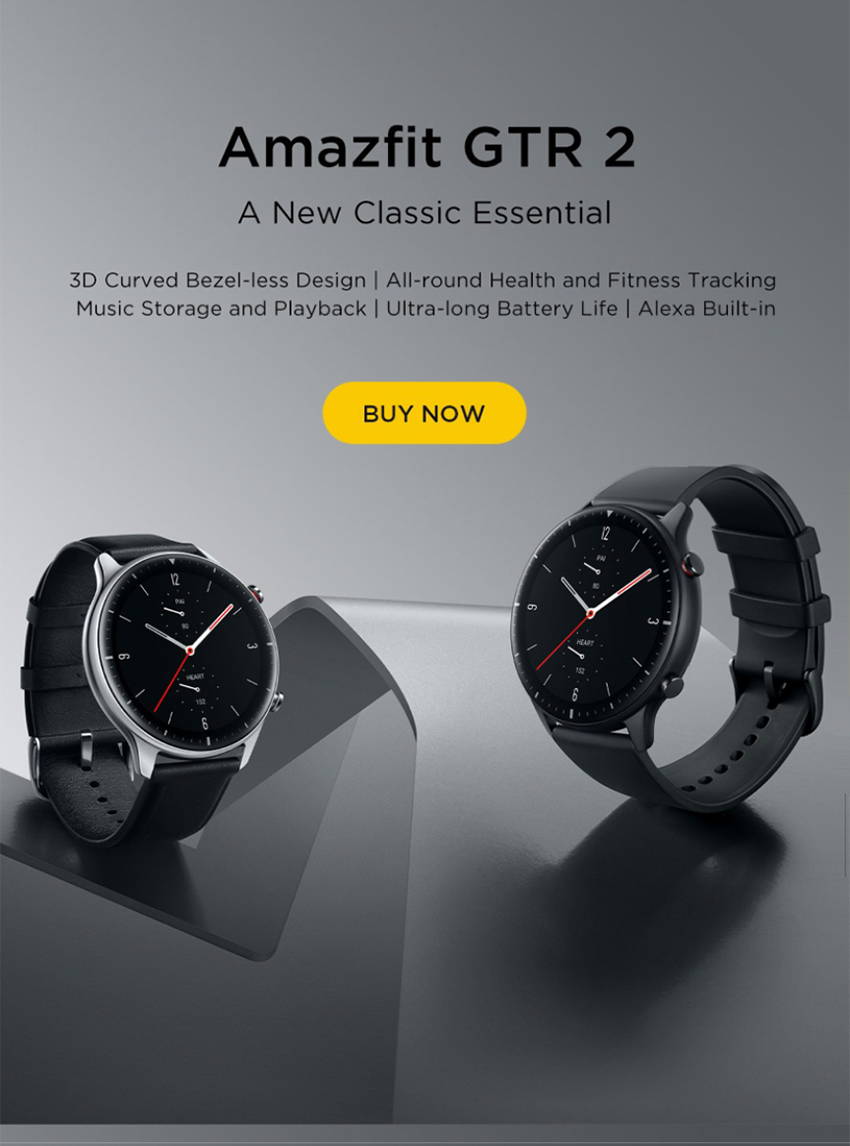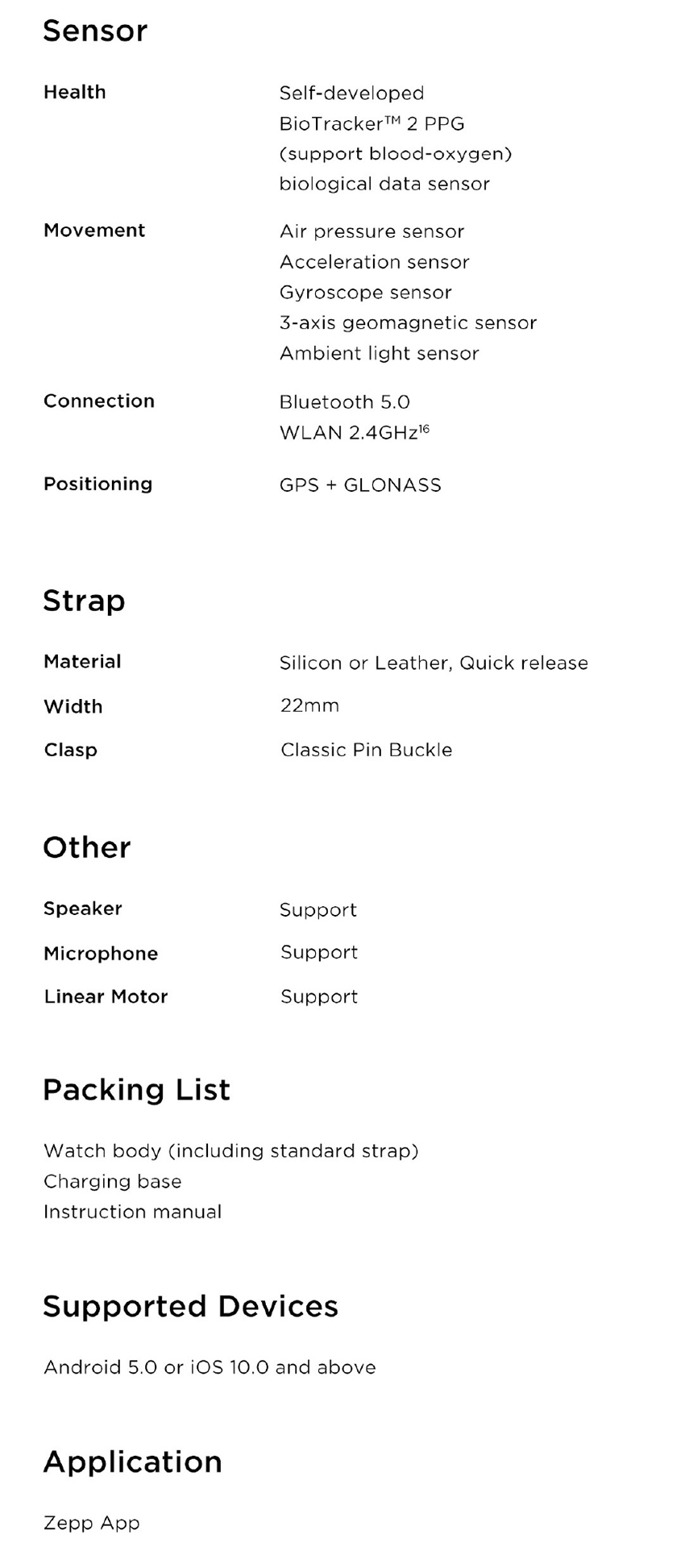 Customer Reviews
03/01/2023
David m.

United Kingdom
Not bad
This is a good looking watch great battery life but the time button is not right when you push the button in to get the time it goes past that mode and into another which is not great but overall a nice watch.
01/07/2021
Oliva

France
Top
Commande rapide et de qualité. Une très belle montre
12/24/2020
GTR2

France
GTR 2 SUPER MONTRE !
Après l'avoir commandé en ligne sur AMAZFIT, j'ai été remboursé intégralement à cause des délais...Merci du sérieux de ce site ! Mais j'ai pu obtenir ce modèle ailleurs. Elle est vraiment TOP ! Je la conseille vivement !